Richmond residents came out in force today (Friday March 16) to check out the official 'Tour de Yorkshire' trophies.
The men's and women's trophies went on a whistle stop tour of the town ahead of the May cycling race – visiting local schools, attractions and museums.
"Having the trophies in Richmond made the race seem very real," said Council Leader, Councillor Yvonne Peacock. "Momentum is really building up now with plans for celebrations to mark its visit well underway.  And judging by the excitement of the trophies visit the interest in the event is massive."
County Councillor Carl Les, Leader of North Yorkshire County Council, said: "We're really keen for local businesses to take advantage of the opportunities that the Tour brings and it's great to see Richmond getting behind the race and supporting the trophy tour.
"The Tour this year is set to be another great event and we know the benefits to North Yorkshire will be enormous, both immediately and in the long-term."
The third stage of the Tour de Yorkshire 2018 starts from Richmond marketplace on Saturday May 5.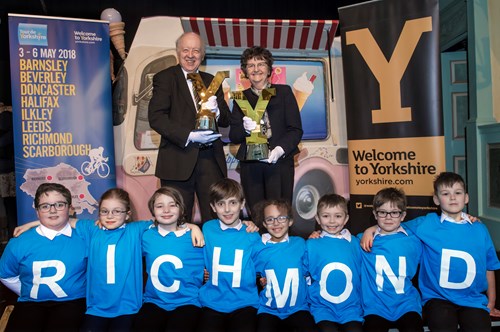 One of the stops on the tour was the Georgian Theatre in Richmond where civic leaders, and children from Trinity Academy in Richmond checked them out with a backdrop of the set of the Odd Doll production, Seaside Terrors. Pictured are: Cllr Carl Les, North Yorkshire County Council Leader, Cllr Yvonne Peacock, Richmondshire District Council Leader and eight children from Trinity Academy.
March 16, 2018