Richmond schoolchildren are being encouraged to welcome the Tour de Yorkshire to the town by creating a sea of flags.
The District Council has launched a competition with local schools to design a special flag for the May 5 event.
Every pupil can take part but each school will be asked to provide a finalist from each year group – with an overall winner then picked by Tour de Yorkshire – and Richmond based - artist, Lucy Pittaway.  He – or she – will take part in the official race start in the town and receive a replica of the official TDY flag.
All the designs will be featured in a special march by the children through Richmond before the race.
"The flags can be in any colour or any design – they can feature the tour colours of blue and yellow, be in the shape of a bike or feature Richmond," said Lucy Pittaway.
"Whatever the design we want to show everyone that the town is a great place to live and visit – and is very excited about the Tour coming to visit!"
Schools are asked to contact business@richmondshire.gov.uk for more details.  All entries must be submitted by March 28 with the winner announced after Easter.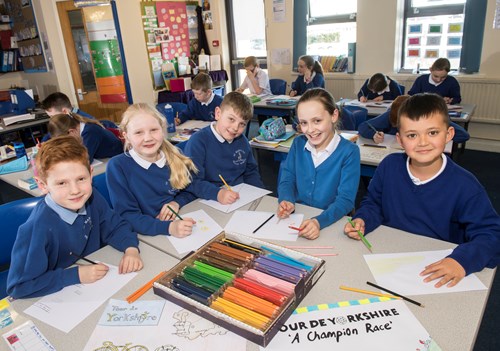 Children from St Marys RC School in Richmond begin preparing their flags
March 5, 2018