Army veteran Chris Childs has joined a council team delivering a programme to help his ex colleagues.
He completes the Healthy Horizons team – which looks after a programme aiming to improve the physical and mental health of ex-forces personnel aged 65 or older people within Richmondshire. 
Chris joins Ryan Rutherford who has been working as the District Council's Lifestyle Officer.
The healthy lifestyle programme has two elements:
'Step-by-Step' which provides the opportunity to improve physical health and nutrition and focuses on improving lifestyle choices, nutrition, physical activity, healthy cooking, healthy eating and improving physical health and wellbeing  
'Pop up Shed' which provides therapeutic sessions in arts and crafts including woodwork, creative writing, and photography and painting to improve mental health related issues


The scheme is free to everyone who lives in North Yorkshire, aged 65 and over and have served in the armed forces, completed National Service conscription, or worked in the Merchant Navy in support of the military at some point. 
Referrals to the Healthy Horizons programme can be made by either individuals, friends, family or carers and by health professions or support services by contacting the Healthy Horizons Team on 01748 829100 or exforces@richmondshire.gov.uk
For more information check out Community First Yorkshire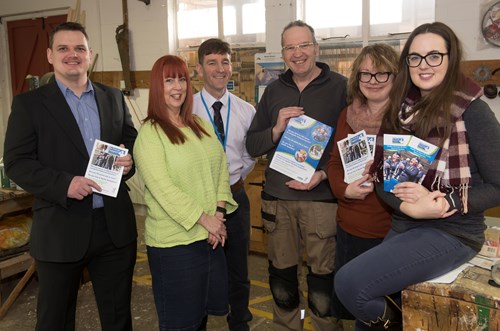 Ryan (far left) and Chris (second from left) are pictured with members of the district council team. 
February 12, 2018