The campaign to clear Richmondshire of dog fouling has taken a step forward.
Dog owners can now access free dog poo bags at 16 dispensers across the district.
They have been installed at popular dog walking routes – in Richmond, Catterick, Colburn, Hawes, Reeth, Scorton, Leyburn and Brough St Giles.
The biodegradable bags are supplied by Tikspac UK and sponsored by three local businesses - The Raw Store, Graculus Sculptures and Centrebarks.
Information on locations can be found on the Richmondshire Dog Warden Facebook page.
"These stations have already proved popular in other parts of the country so we are delighted businesses here are supporting them – and helping to keep our streets and parks clear of dog mess," said Deputy Leader of the Council, Councillor Ian Threlfall.
"They provide free bags for those pet owners that need encouragement to use them.  Most dog walkers realise the importance of picking up after their pets, but there are still some that give them all a bad name."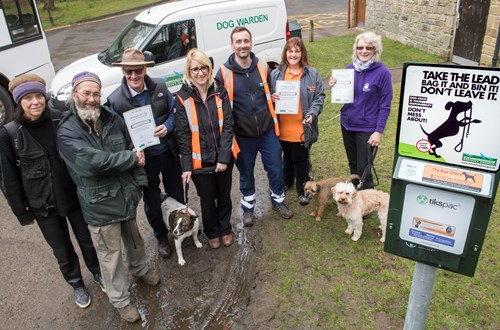 Pictured from left to right are:
Michael Kusz and partner; Cllr Ian Threlfall; Sally Dixon, Monitoring and Enforcement Supervisor; Lee Richardson, Dog Warden; Nikki Chandler, The Raw Store; and Heather Stevens, Centrebarks.
April 3, 2018