Richmond based businesses are being encouraged to paint the town blue and yellow for the visit of the Tour de Yorkshire in May.
And to help them the Town Council has 100 wooden bikes for them to decorate and include in displays.
The bike templates are free – and its hoped every town business will take one and then enter competitions to find the best decorated bike and the best decorated shop window display.
The competitions are being sponsored by Richmond Cycle Club. Richmond Rotary Club, Richmond Operatic Society and Richmond Round Table.
Bikes can be collected from Richmond Town Hall – or by calling the town clerk on 01748 850808.
Richmond is hosting the start of the third stage of the Tour de Yorkshire on May 5th – riders will leave the market place around lunchtime to cycle to Scarborough.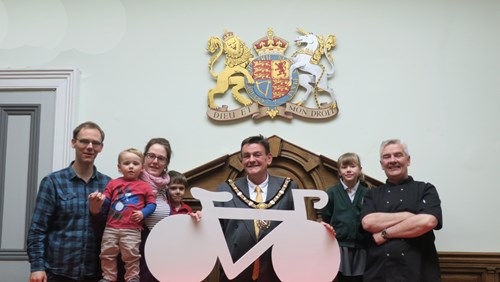 Pictured are Richmond Mayor, Councillor Stuart Parsons with David and Loo Morton from Neeps and Tatties and Dennis Graves from the Mocha Chocolate Shop.
April 3, 2018