Richmondshire is one of five North Yorkshire councils set to benefit from a £196,000 grant.
They have won the funding from the Ministry of Defence to use over the next two years to strengthen delivery of the Armed Forces Covenant.
City of York Council is leading the partnership with North Yorkshire County Council, Scarborough Borough Council, Hambleton District Council, and Richmondshire District Council.
Council Leader, Councillor Yvonne Peacock said: "Richmondshire has a huge garrison community in Catterick and we have a long standing relationship with the armed forces community. We hope this work will strengthen those community links and increase awareness of issues affecting them." 
Working closely with York St John University, a series of armed forces 'understanding military culture and transition' awareness training sessions will take place across the councils Changes to armed forces community related strategy, policy and delivery including "asking the armed forces question" will result in better data provision, understanding and improved social outcomes. Potential cost and efficiency savings may also be identified through early intervention, diversion and sharing of good practice across the partnership.    
The project will also deliver a research element to better understand the armed forces composition, and highlight areas of existing military covenant good practice and inequality. This will be complemented by a web portal to centralise and share information across North Yorkshire.  NHS England, CCG and public health teams will lead on the first North Yorkshire wide armed forces community Strategic Health Needs Assessment to identify any unmet needs and address gaps in access to local provision. 
The military community consists of all regular, reserve and retired members of the Army, Navy and RAF and their families.
The Armed Forces Covenant, outlines the moral obligation between the nation, the government and the armed forces, to remove inequality and look after those that have given the most. For more information about the Armed Forces Covenant, visit:  www.gov.uk/government/policies/armed-forces-covenant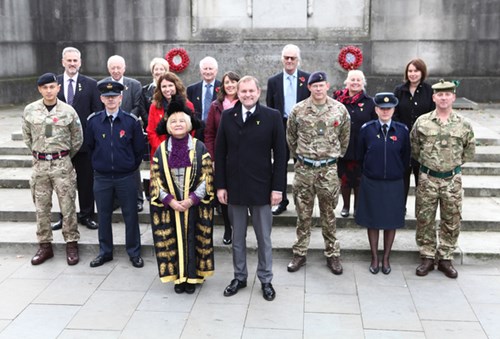 Sir Gary Verity, The Lord Mayor of York, Armed Forces champions from each council, and representatives from the armed forces.