Richmondshire's 20 recycling banks have been given a makeover. 
Signage has been improved to keep the centres – which collect paper, card, plastics, cans and glass – in top condition and help users place the right recyclate in the right container.

Mobile cctv cameras are also being rolled out to detect and deter flytipping at the sites.
"After the success of the expansion of the kerbside recycling scheme we have also expanded the range of items which can be accepted at our bring bank sites across the district," said Councillor Tony Duff, Portfolio holder for waste services.
"I am pleased that as part of national recycle week we can announce that we now have much clearer signs at our bring banks. It is most important that people put the right things in the correct containers.
"Contamination of a bin can cost the Council £12,000 every three months and this puts pressure on the council's budgets which could lead to an increase council tax.  I urge you to tell us if you see someone putting something in the wrong bin - correct recycling gives the councils a considerable sum of money."
The council has banks in Gatherley Road, Brompton; Tesco, Catterick Garrison; Colburn Lorry Park; Nuns Close, Richmond; Leyburn Car Park; Hawes Car Park; Cover Bridge Inn; Hunton Village Hall; Newton le Willows Village Hall; Askrigg Tennis Courts; The George and Dragon, Aysgarth; Redmire Village Store; Reeth Dales Centre; Grinton Lodge YHA; Keld YHA; Langthwaite Car Park; Muker Car Park; The Crown Inn, Manfield; Black Bull In, Moulton and Bainbridge Primary School.
For further details about our recycling banks click here.
• Recycle Week from Sept 24 – 28 is the UK's annual event to build awareness of, and encourage increased participation in recycling behaviour. It is organised by WRAP under the Recycle Now brand. Recycle Now is a campaign run by WRAP which helps people in the UK recycle more things, more often, from all around the home. The campaign aims to encourage behaviour change across the UK to reduce the amount of waste produced and use resources in an efficient way.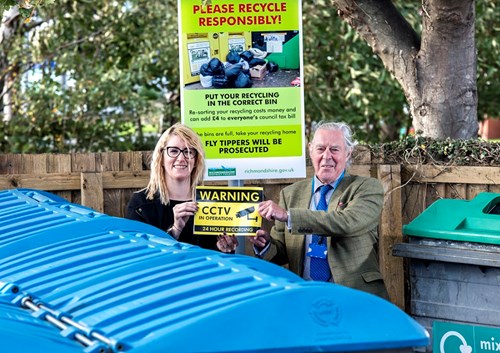 Mobile cctv cameras installed at recycling centres