Richmondshire veterans have created a special souvenir for the winner of stage three of the Tour de Yorkshire.
The stage starts in Richmond next Saturday (May 5) travelling through Catterick, Leyburn and Patrick Brompton before heading to a finish in Scarborough.
Local veteran Norma Bell is helping set them off on that journey – and she has helped create the wooden plate gift through the District Council's Healthy Horizons initiative, alongside master craftsman, Terry Harrington.
The scheme aims to improve the physical and mental health of veterans over the age of 65 and ex-military people who may need support and advice.  The wooden plate has been made through the Pop Up Shed side of the project – based within a local workshop it provides sessions in arts and crafts including woodwork, creative writing, photography and painting within a safe, supportive and friendly setting. Ex-forces personnel can socialise, learn new skills and hone existing skills by working alongside each other. It is a fully equipped woodworking shed with hand tools, donated wood and a separate room for other creative activities.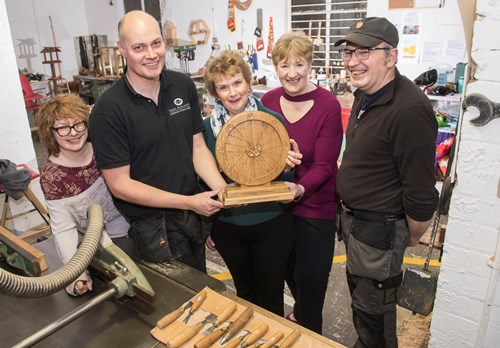 Pictured from left to right are: Sue Dewhurst (pop up shed); Terry Harrington (joiner); veterans Norma Henderson and Norma Bell and Dave Parry (pop up shed)