A small Dales garage is supplying fuel round the clock thanks to a grant from the District Council.
The Dale Head Community Garage in Hawes – the first community run filling station in England - has installed a 24/7 terminal to serve local residents, businesses and visitors.
The scheme was awarded £15,567 from Richmondshire District Council's Economic Growth Fund.
It is hoped that the machine – which takes credit and debit cards – will draw in out of hours customers who would have ventured out of the Dales in the past, and bring in extra people for the night time economy of the district. Local businesses have already welcomed the new facility, especially those that have mobile employees living locally but working away from Upper Wensleydale -  it means they can extend their working hours knowing they can obtain fuel overnight ready for the next day's work.  
The Upper Dales Community Partnership (UDCP) – a not for profit community company - took over the running of the garage in November last year and has already seen a 40% rise in business.
"Hawes is the very first deeply rural community in England to have a garage providing round the clock fuel – vital when due to our remoteness we are 60 miles from the nearest hospital for a critical life or death emergency health event," said John Blackie, Volunteer Executive Chairman of the UDCP.
"In the first three nights of our 24/7 launch we sold £1300 of fuel - fuel that would have otherwise been bought elsewhere, or those needing it having to wait until we opened - which is incredible.  We have had very strong support from local businesses as it helps them to attract employees into the Upper Dales.  We are also able to be very competitively priced due to a government subsidy because of the deep rurality of Hawes.  This is a great new service for the Dales and we thank Richmondshire DC for its support."
The Richmondshire fund is designed to support initiatives and infrastructure projects that aim to deliver growth in the local economy through commercial activity – with £237,617 allocated to businesses and partners since the fund opened in 2016.
 "Through this scheme we are looking to see economic growth – and the garage in Hawes is a good example of how we can keep business in the Dales 24 hours a day, seven days a week," said Council Deputy Leader, Councillor Ian Threlfall (pictured left with John Blackie).
"I am sure this will keep people in the Dales – which will have an impact not just on the garage's business but on the business of other traders in the towns and villages."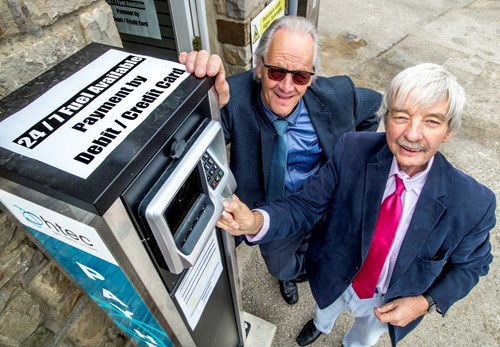 Pictured at the 24/7 terminal are Councillors John Blackie and Ian Threlfall