A free family fun day is to take place in Richmond later this month to celebrate Armed Forces Day.
Members of the Pop Up Shed are hosting the event at The Station on Saturday June 30 (from 10am until 4pm) to showcase the Shed's work.
There will be a display of items restored and upcycled in the Shed's workshop as well as artwork made in the art sessions. And there will be storytelling and peg-doll making sessions with actress and author, Irene Lofthouse and willow weaving with artist, Jo East .
The Pop-Up Shed is a free scheme open to any over 65s ex-forces personnel (or anyone who completed their National Service or served in the Merchant Navy in support of the Armed Forces), living in North Yorkshire. It is run as part of Richmondshire District Council's Healthy Horizons programme.
The fully equipped woodworking workshop and separate art room is open most Wednesdays and Thursdays running in six week blocks from a building on the Trading Estate in Richmond. Irene Lofthouse and Jo East are two of a raft of guest artists who have led workshops at the Pop-Up Shed since it started last October. Other artist-led workshops have included textile art, woodcarving and cabinet making, photography, printmaking, icon making, painting and even the art of illusion.
Manager Sue Dewhurst said: "We are so lucky to have not only the guest artisans but a talented team of dedicated volunteers too, who are happy to skill share and encourage everyone to find a way to solve a problem together. We frequently hear comments such as: I am learning a real new skill here at the age of 82- not just sat at home watching tv.''
For more information call the Healthy Horizons team on 01748 829100 or pop along to the open day at The Station, where managers Sue Dewhurst and Dave Parry will be happy to explain further and enrol anyone interested.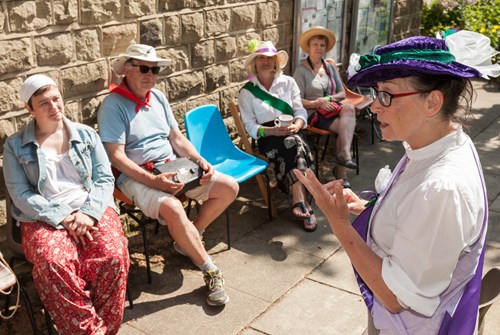 One of Irene Lofthouse's storytelling sessions - photo by Michelle Hestletine