The project at The Dairy, Eastburn Farmhouse, Leyburn, constructed by Acton and Mudd, designed by and for Cottage in the Dales and nominated by the building control team from North Yorkshire Building Control Partnership was awarded the title of Best Inclusive Building at the LABC Building Excellence Awards Grand Finals – one of the most recognised events on the building industry's calendar.
A panel of industry experts judged a shortlist of the highest quality projects from around England and Wales to reward the best in technical innovation, sustainability and design.
The project involved the extension, conversion and adaptation of an existing Grade ll listed building in the Yorkshire Dales National Park to create a holiday cottage specifically designed and constructed around the needs of disabled people.
Owners of Cottage in the Dales, Diane and Andrew Howarth, said "The Dairy is the first accommodation in the Yorkshire Dales to provide accessibility support for guests with mobility, hearing and visual requirements to the Visit England (NAS) National Accessibility Scheme standards.
"The Dairy aims to deliver a luxurious and relaxing 5* stay, regardless of whether a guest is able-bodied or not. Here, we want to offer the red carpet, not a red emergency cord, that we're calling 'accessible luxury'; a premium hospitality experience, at an accessible price, that's accessible to all."
LABC Chief Executive Paul Everall said: "Our Building Excellence Awards are an opportunity for the industry to celebrate good practice.
"Our winners demonstrate how positive working relationships with local council building control teams achieve high quality, sustainable buildings. Our awards are unique because they recognise how this cooperation improves building standards and professionalism across the industry."
The panel of expert judges said "This scheme goes above and beyond minimum building regulations standards. It used flexible bathroom, kitchen and bedroom layouts, products and design solutions to create a 5 star experience and the same level of luxury as their non-accessible offering.
"This results in a non-clinical feel which appeals to all customers regardless of whether they are looking for an accessible holiday property or not. This entry is a very well thought out property delivering truly inclusive design."
The LABC Building Excellence Awards Grand Finals took place on Friday 9 November 2018 at the Westminster Park Plaza in London and was hosted by Dead Ringers star, comedian and impressionist Jon Culshaw.
860 building industry professionals including contractors, architects and engineers attended the celebration to find out which projects won across the 15 hotly contested categories.
Applications are now being taken for the Regional Awards.  For further information on the North and East Yorkshire Building Excellence Awards 2019 please visit our dedicated web page on our website - NYBCP or contact Sara-Jane Hill on 01347 822703 or email sara-jane.hill@nybcp.org.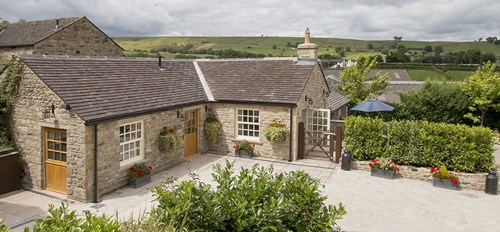 The Dairy, Eastburn Farmhouse, Leyburn